December 1, 2018

Application period begins

February 28, 2019

Application period closes

Mid April, 2019

Notification sent to applicants for interviews

Late May/early June, 2019

Finalists' Interviews held

November 1, 2019

Fellows' training begins in Sacramento

December 2019

Fellows assigned to host offices
Sending Scientists to Sacramento to Help Shape Smart Policies
A limited number of California's state legislators possess backgrounds in science, engineering, or technology. Despite this, they are asked to make critical decisions on a number of issues that require an understanding in these areas, such as our water supply, the state's energy grid, and overall environmental policy.
To address the challenge this represents, each year the CCST Science Fellows program recruits a corps of ten PhD scientists and engineers. These Science Fellows spend one year in Sacramento, directly serving policymakers within the California State Legislature.
Working as legislative staff within the State Senate or State Assembly, these scientific minds get a front-row seat learning about the craft and process of lawmaking in the State of California. CCST Science Fellows work alongside with legislators to evaluate complex scientific issues, interpret data, while tackling the responsibilities of full-time legislative staffers.
These talented individuals gain valuable experience and training in public policy making. In turn, state lawmakers are given access to science-savvy staff members, helping them to craft fact-based policies.
The CCST Science Fellows program is a win-win for California. By embedding PhD scientists directly within the state legislature, we inform policy discussions with scientific perspectives and expertise.
The 2019-2020 fellowship application period is now closed.
Want more information?
Visit our FAQ page, or contact us at [email protected]. If you have a question regarding the application contact: [email protected]

0
Science Fellows Trained To-Date

0+
Doctoral Degree Institutions Represented From Across the US

0%
Of Science Fellows Hold PHDs or Equivalent Degrees in Science, Medicine, or Engineering

0+
Bills, Hearings, and Actions Impacted by Science Fellows

0%
of Science Fellows Have Been Hired by the California State Legislature or State Agencies Since Completing Their Fellowship
Affecting All Californians
By embedding PhD-level scientists directly in the California state legislature the CCST Fellows Program helps inform policy discussions with scientific perspectives and expertise. CCST Fellows have contributed to bills and laws in diverse areas:
Energy & Environment
Clean energy
Climate change
Earthquake early warning system
Electric vehicles
Habitat restoration
Hydraulic fracturing
Waste management
Water quality and supply
Human Services
Adoption and foster care
Affordable housing
Aging and long-term care
Autism services
Homelessness
Medicaid and Social Security
Reentry and job training
Veterans issues
Public Safety
Education
Community colleges
Digitally enhanced education
Education funding
Higher education
School nutrition
Standardized testing
STEM-ready workforce
Teachers
Healthcare
Alzheimer's disease
Genetic testing
Healthcare disparities
Medical devices
Medical professions
Organ donation and transplant
Smoking and e-cigarettes
Vaccinations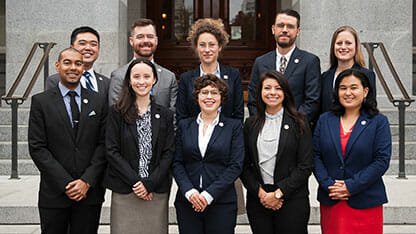 Fellows Advisory Committee
Comprised of business, science and philanthropy leaders from around the country, the Fellows Advisory Committee is a formidable liaison for the Science Fellows Program to science and technology philanthropy leaders.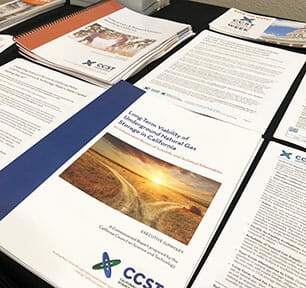 CCST Science Fellows Updates