Analysis of scientific and technical matters for California policymakers

'Science At Your Service' – On-demand expertise for briefings, reports, and more

Access to world class expertise through our Partner Institutions and beyond
Want to make a difference? We recruit PhD scientists, engineers, and social scientists for a year of public service in California, gaining valuable career training in public policy.
Read our latest announcements, blog posts, and insights in our News section, covering all things CCST and S&T Policy Fellows related. Be sure to sign up for our monthly CCST Spotlight Newsletter to get these highlights and more directly in your inbox.
Catch up on our latest CCST Expert Briefings. Download the one-pager overviews and watch the video recordings on a range of topics addressing challenges facing California, featuring leading voices from our Partner Institutions and beyond. And sign up to be the first to hear about upcoming briefings and related events.
For more than 30 years, CCST has worked to tailor its services to meet the needs of the Capitol policy community, particularly when it comes to providing impartial advice and expertise on sensitive scientific matters. By leveraging its network of experts distributed throughout the University of California, California State University, California Community Colleges, Stanford, Caltech, and NASA and DOE campuses, CCST can respond to a variety of decision maker requests for assistance.
Contact CCST to speak to an expert in a specific scientific or technological field, secure expert testimony for a hearing, arrange for an in-office meeting with a researcher, organize a panel briefing, commission a brief report or full-fledged research project and publication, and more.
Most of our projects, which focus on issues that are timely and important to California's future, result in the publication of one or more reports. To provide sound, science-based input to California's policymakers, CCST:
Convenes world-class experts to develop assessments

Ensures full disclosure of conflicts of interest

Conducts thorough, objective work based on scientifically sound principles

Ensures rigorous peer review is conducted before reports are published
We are proud to uphold these standards, ensuring that policymakers have the information necessary to craft policies made stronger with science—in California and beyond.
As a trusted non-partisan partner of the California Legislature and Executive Branch, we develop and publish reports on some of the most timely and important issues critical to California's future. Our publications ensure that the public has access to unbiased insight into important scientific matters, while giving policymakers at the state and national level the information necessary to craft policies that reflect current scientific understanding.
All of our publications are freely available, and can be viewed by browsing the full list of reports, or by using the search bar.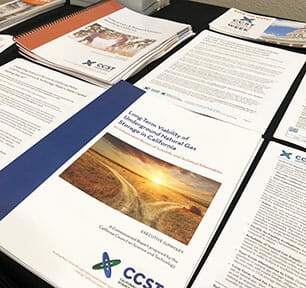 California's policies are stronger with science. By donating to CCST, you help to support a more informed California, and to improve the lives and wellbeing of the 40 million inhabitants impacted by the choices made by California's policymakers.