Publications and Projects
CCST is dedicated to providing impartial expertise that extends beyond the resources or perspective of any single institution. Publications are produced in compliance with a rigorous study process and peer review process.
To provide sound, science-based input to the State of California, CCST ensures all of the following in our full, commissioned reports:
We convene world-class experts to develop the assessments
We ensure full disclosure of conflicts of interest
We conduct thorough, objective work based on scientifically sound principles
We ensure rigorous peer review before reports are published
CCST is proud to uphold these standards in all of our work and ensure the best input to policymakers, leading to policies made stronger with science — in California and beyond.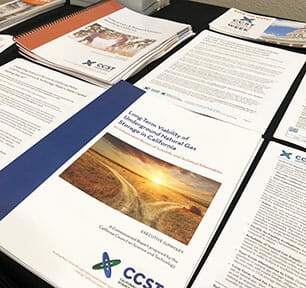 All Projects & Publications
All Projects & Publications
All Projects
All Publications
Annual Report
CalTAC
Economy
Education
Energy
Environment
Federal Laboratories
Makerspace
Oil & Gas
Policy
Public Health
Resilience
Technology
White Paper
CCST publications are available for download at no charge. Hard copies may be obtained by contacting our office. For orders of multiple hard copies, a fee may be charged depending on the report.
Projects in Progress or Recently Completed