California's Federal Labs & Research Centers
Six federal laboratories and science centers in California have formal partnerships with CCST – the State's premier resource to connect decision makers with leading scientists in California and beyond – as Federal Laboratory Partners. This Impact Report offers a glimpse of the resources and expertise that each lab can offer to California's decision makers.
Each federal entity boasts a government relations team able to assist local, state, and federal offices. Together with CCST, these liaisons serve as a resource for community members and officials who want to learn more about federal labs and their broader impact for California. CCST helps facilitate links across the capabilities and talents of these labs and centers, and can help Members and Capitol staff navigate the tremendous resources spread across federal labs and science centers in California.
With this report, we invite you to learn how our federal labs and research centers help make California stronger with science and technology.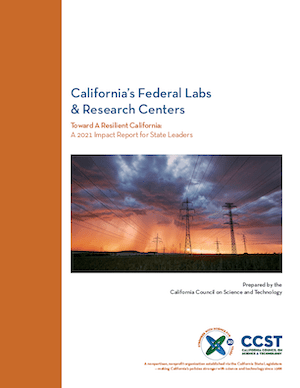 Dear Fellow Californians:
As a state whose motto proclaims proudly—Eureka!—California's bounty of advanced research institutions is decidedly appropriate. Alongside academic powerhouses such as the University of California, Stanford, and Caltech, we also take pride in our unrivaled collection of federal laboratories and research centers.
Federal labs and research centers are set apart from other institutions by bringing to bear large-scale, mission-based projects and facilities on some of humanity's most pressing and difficult scientific questions. They represent billions of dollars of federal research investment, providing a wealth of knowledge and expertise that California can draw on. These labs take us deep inside the genetic code, support the foundations of our energy and national security, and even launch us toward the stars.
Today, California is at a crossroads. Complex and intersecting disasters, including wildfires, climate change, and the ongoing COVID-19 pandemic, are radically disrupting the ways in which Californians live and work, and threatening catastrophic loss of life and economic impacts. California's federal labs and research centers are leveraging their world class expertise and technologies—as well as passionate researchers, students, and support staff—to invest in our resilience to disasters.
The unique nature of our federal labs and research centers puts them in an ideal position to pursue research and development in service of the public good. Whether it is an electricity grid infrastructure that is more resistant to disruptions from extreme weather events, satellite monitoring of developing wildfires to aid our first responders, or new technologies for purifying drinking water in the wake of an earthquake, the breakthroughs developed in these labs continue to benefit millions of Californians every year.
As California continues to move forward and confront big challenges, these labs and centers are ready to help. Here, we invite you to learn about just a few of the many ways that our federal labs and research centers are helping to make California—and the whole nation—more resilient.
Amber Mace, PhD
CCST
Executive Director
Peter Cowhey, PhD
CCST Board Chair
UC San Diego
Terry Land, PhD
CCST Federal Lab Partners Chair Lawrence Livermore
National Laboratory
Accessing California's Federal Labs
Add a header to begin generating the table of contents
Benefiting Governance and Livelihoods
California is home to a diverse range of federal labs, science centers, and field stations, spanning several U.S. agencies, departments, and bureaus. Six of these are founding members of CCST's Federal Laboratory Partners:
National Aeronautics and Space Administration (NASA) Field Centers
•  Ames Research Center
•  Jet Propulsion Laboratory
U.S. Department of Energy (DOE) National Laboratories
•  Lawrence Berkeley National Laboratory
•  Lawrence Livermore National Laboratory
•  Sandia National Laboratories/California
•  SLAC National Accelerator Laboratory
Why Tap into Federal Science?
Federal agencies such as DOE and NASA are uniquely positioned to contribute to California's scientific conversation. They leverage the might of federally directed research resources and facilities — bringing mission-oriented research and scientific facilities that complement the wealth of expertise at University of California, California State University, Caltech, Stanford, and other campuses.
Federal research includes many focal areas that can directly inform policy questions at the state level. Federal labs can partner with state agencies and campuses to conduct studies vital for our understanding of natural and physical processes. These federal-state-university partnerships require time for planning and implementation, but they yield collaborations and important knowledge for lifetimes.
Each federal entity boasts a government relations team able to assist local, state, and federal offices. Together with CCST, these liaisons serve as a resource for community members and officials who want to learn more about federal labs and their broader impact for California.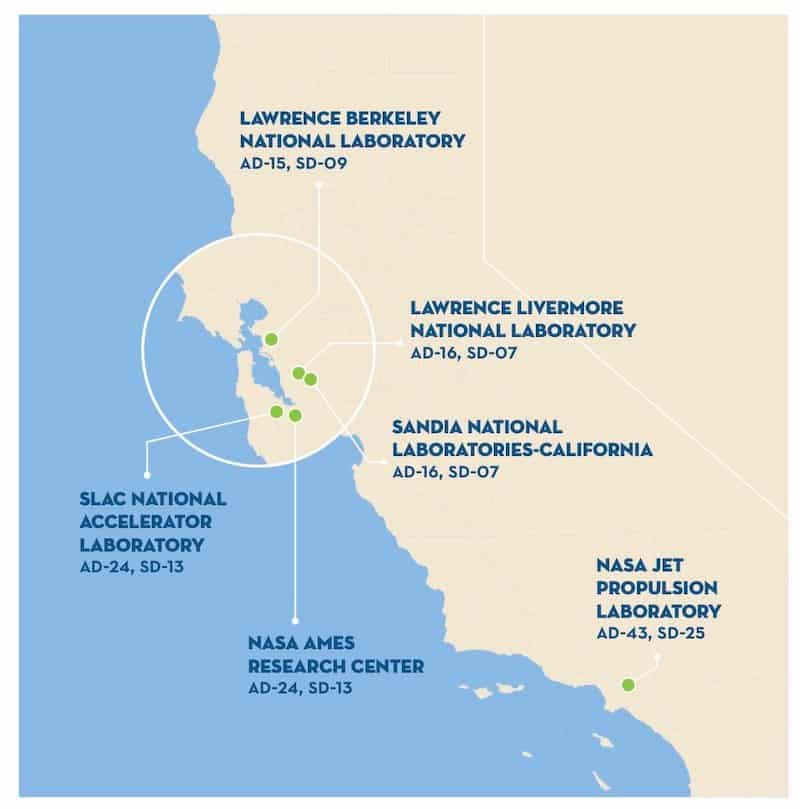 The California Council on Science and Technology (CCST) is a nonpartisan, nonprofit organization established via Assembly Concurrent Resolution 162 in 1988. The resolution directed CCST "to respond to the Governor, the Legislature, and other entities on public policy issues related to science and technology." To deliver independent advice to state policymakers, CCST engages science and technology (S&T) experts across California's research enterprise, including through formal partnerships with the University of California (UC), California State University (CSU), California Community Colleges (CCC), Stanford, the California Institute of Technology (Caltech), and the six federal laboratory partners described above.
By connecting policymakers with leading scientists in California and beyond, CCST increases policymaker access to S&T advice that is informed by diverse expert perspectives. Over the past three decades, state leaders have requested CCST reports and expert briefings on many issues of policy importance, from natural gas storage safety to sustainable water futures. The connections we facilitate between policymakers and scientists also enhance the ability of our 11 Partner Institutions to transmit S&T information for the ublic good, including by expanding opportunities for experts to participate in the policy arena and by identifying questions that will drive future research and innovation.
In 2005, there was growing interest by state leaders to improve access to expertise found at federal laboratories and science centers across California, and engage them on issues affecting the Golden State.
The call for advice coincided with conversations and coordination already ongoing between CCST and several federal research institutions in California. CCST welcomed six new Partner Institutions.
Of the six institutions, four came from the U.S. Department of Energy: the Lawrence Berkeley National Laboratory, Lawrence Livermore National Laboratory, Sandia National Laboratories, and SLAC National Accelerator Laboratory; and two came from NASA: the Jet Propulsion Laboratory and the Ames Research Center.
In 2020, in recognition of a need for more agile science and technology advisory frameworks for the state and the increasing threat of natural disasters in California, CCST launched a Disaster Resilience Initiative, focused on increasing the delivery and responsiveness of the science advisory support provided by CCST's science and technology experts to California policymakers. This five-year public-private partnership will convene diverse, interdisciplinary experts from throughout CCST's network to address the State's most urgent disaster resilience advisory needs through a series of needs- finding workshops, briefings to policymakers, advisory meetings, and other engagements.
Policymakers should contact CCST:
•  During policy development, to obtain data and advice from subject area experts.
•  During the legislative process, to find experts for testimony at policy, fiscal, select committee, and other hearings.
•  During implementation and regulatory enforcement, accessing current science to review standards, technologies, efficacy, and relevance.
•  When analyzing natural disasters and human- engineered catastrophes and planning for prevention, preparation, response to, and recovery from these events.
•  If your office is considering legislation, regulations, or other work products that you believe would benefit from science and technology expertise, or if you are seeking data and advice to strengthen your decisions with science, contact CCST — and we will help you navigate the bounty of top scientific minds available to California.
How CCST Can Help
CCST can help Legislators, appointed officials, and Capitol and executive branch staff navigate the tremendous resources spread across federal labs and science centers in California.
CCST's access to the Federal Laboratory Affiliates has resulted in several high-impact reports that have been useful to state leaders, delivering timely, nonpartisan, scientific analysis on complex issues. Examples include:
Federal Labs Research Benefiting California
In Service to the Nation and Its States
California has a long history of dealing with a wide variety of disasters and threats, from wildfires and earthquakes to pandemics and bioterrorism. Because of their state-of-the-art facilities, longstanding collaborations, and cross-disciplinary organization, the federal labs in California are uniquely positioned to coordinate the large research projects needed to develop technologies and inform strategies to improve the state's resilience.
Below is a small sample of the labs' recent and ongoing research with major implications for how California prevents, prepares for, responds to, and recovers from disasters. This overview is not an exhaustive list of all projects and research areas at these institutions, nor does it represent all federal labs and science centers located here in California. However, these highlights do illustrate the amazing breadth of federal research and applications available to policymakers in Sacramento.
NASA Ames               NASA Ames Research Center
NASA JPL                  NASA Jet Propulsion Laboratory
Berkeley Lab              Lawrence Berkeley National Laboratory
LLNL                          Lawrence Livermore National Laboratory
Sandia/California       Sandia National Laboratories/California
SLAC                          SLAC National Accelerator Laboratory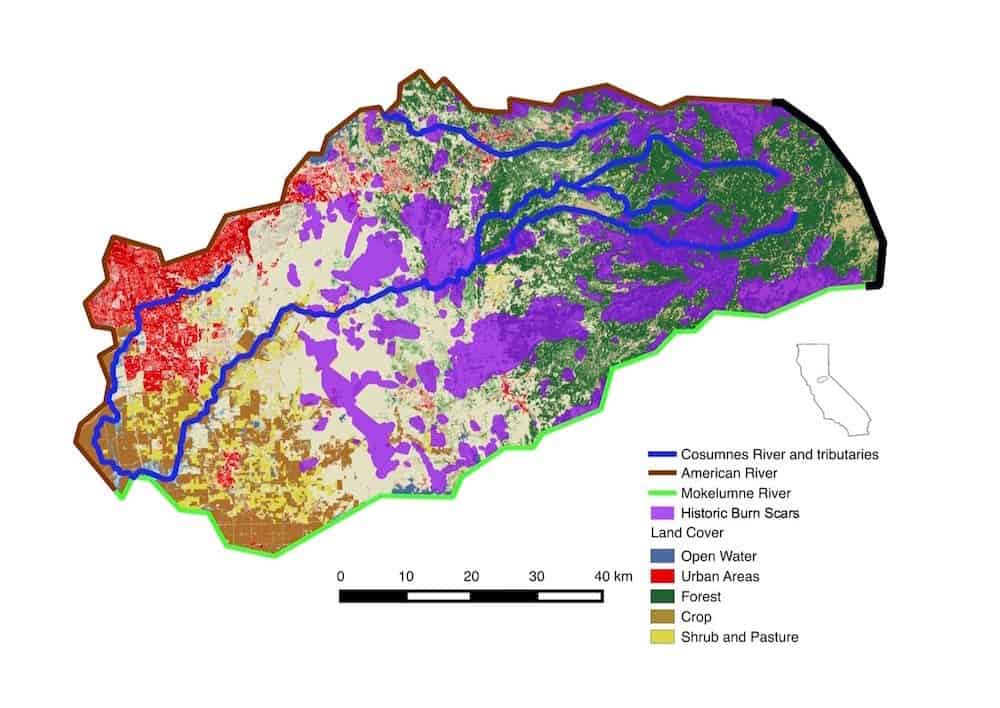 Berkeley Lab's National Energy Research Scientific Computing Center (NERSC) advanced supercomputers are enabling high-resolution climate simulations that help local decision makers quantitatively understand how climate change may intensify extreme weather events and impact water availability and infrastructure. For example, the City and County of San Francisco has partnered with Berkeley lab to assess how climate change could impact San Francisco and its infrastructure, including the San Francisco Airport. Berkeley Lab scientists, in collaboration with LLNL and university labs, are also using NERSC to develop an advanced hydrologic model of the Consumnes watershed to study how climate change and wildfires might affect California's water availability and help resource managers develop strategies to manage the state's water resources. This model can be adapted to other California watersheds to explore future scenarios, evaluate risks, and improve planning. Read More.
A team led by NASA JPL scientists, in collaboration with IBM and the National Hurricane Center, is using machine learning to more accurately forecast when hurricanes will intensify suddenly, providing vital time to prepare an adequate emergency response. By analyzing historical satellite data from several NASA missions, the team identified three indicators associated with an increased chance of intensification: the rainfall rate at the storm's core, the ice water content of clouds within the storm, and the temperature of air flowing away from the eye of the storm. Incorporating these indicators into forecasting models through the use of machine learning resulted in a 60% more likely chance of accurately detecting an intensification event compared to existing models. Read More.
As we continue to grapple with the long term impacts of climate change, reliably predicting the extent and impacts of sea-level rise is a major component of climate resilience. A team of scientists and Sandia/California has been developing new models to predict the behavior of the Greenland and Antarctic ice sheets. As part of a five year collaboration with other labs and universities known called PISCEES (Predicting Ice Sheet and Climate Evolution at Extreme Scales), Sandia's team developed an analysis tool to simulate the flow of ice over the Greenland and Antarctic sheets. By combining the insights from these tools with data sets from glaciologists and climate scientists, PISCEES can make more efficient and reliable predictions about ice sheet behavior.
Home to sea level height satellites since 1978, NASA JPL measures and predicts sea level rise. A recently published study, led by JPL scientists, provides valuable insight into the processes that have driven historical global sea level rise, since 1900. The team tracked and accounted for the effects of a number of global factors, including melting glaciers and ice sheets, land bound water storage, and thermal expansion, to not only understand the past but also to improve predictions of future sea level rise and its impacts. This study used data from JPL's suite of sea level height missions, as well as its pair of gravity-measuring satellites, Gravity Recovery and Climate Experiment (GRACE) and its Follow-On (GRACE-FO), which have also been used to provide data on drought and groundwater, including in the Central Valley in the context of the Sustainable Groundwater Management Act. Read More.
With snowmelt projected to decline by two-thirds by 2100, California will need new treatment and recycling technologies to meets its needs for climate-resilient water supplies. Berkeley Lab is leading the National Alliance for Water Innovation, a $130 million, five year initiative aimed at reducing the energy use and cost of desalination by 75%, paving the way for a circular water economy in which inland brackish and waste waters and other non-traditional water sources can be productively used and re-used. The initiative focuses on developing distributed technologies that can be used locally to reduce transportation costs and increase resilience during water delivery disruptions.
As California and the western US are expected to face threats of drought and flooding in the coming years, researchers are using SLAC's Synchrotron Radiation Lightsource to study and anticipate how these hydrological changes will impact water quality. As water levels ebb and flow, nutrients, contaminants, and chemical reactions may all impact surface water quality. This SLAC research is centered in the Colorado River Basin, an important water source for Southern California. Read More.
Building Resilient Infrastructure
Methane is one of the most potent greenhouse gases contributing to climate change, resulting from human activity. NASA JPL's Next Generation Airborne Visible/ Infrared Imaging Spectrometer (AVIRIS-NG) has been flown across the state to identify fugitive methane emissions, as part of its California Methane Survey. Monitoring methane plumes, JPL researchers were able to detect leaks in infrastructure from agriculture, landfills, and oil and gas utilities. By sharing the data with facility operators to aid in repairing these leaks, this campaign has driven significant voluntary mitigation of methane emissions. Read More.
Sandia/California recently launched a new, multiyear research portfolio to fund exploratory research to combat evolving threats to the U.S. utility systems and electrical grid. The Research Energy Systems Mission campaign is focused on defending the grid from disasters, both natural, such as hurricanes or solar flares, and man-made, such as hostile cyberattacks. Much of the grid is reliant on antiquated technologies that were not designed to be able to withstand modern threats. Additional benefits from the technology developed as part of the campaign include more efficient electricity generation, more accurate data collection, and better grid management.
SLAC's Grid Integration, Systems, and Mobility (GISMo) lab explores the intersection of the power grid, building and ambient intelligence, and human mobility. Building upon the lab's efforts to integrate and utilize large amounts of energy data, the Grid Resilience and Intelligence Project uses artificial intelligence and machine learning to identify vulnerabilities in the grid and build capabilities to anticipate and recover from grid events. Read More.
The U.S. electricity grid is a vital part of the nation's infrastructure and ensuring that it is resilient to both natural and man-made threats is critical to the nation's security and economy. Sandia California's Grid Modernization Program is developing technological solutions to address emerging issues to our electricity distribution system. The program works closely with grid operators and local stakeholders to identify and model the most crucial potential threats and consequences in their regions. Major areas of research focus within the program include: integration of solar and wind power, resilience to geomagnetic disturbances, and the development of agile and resilient control systems for large- scale interconnected power systems. Read More.
With heat waves likely to increase by as much as ten-fold by mid-century, extreme heat represents the most costly, deadly threat to Californians. Berkeley Lab has pioneered the use of solar-reflective surfaces – "cool" roofs, walls, and pavements – to significantly reduce neighborhood temperatures, air conditioning costs, and water consumption in urban areas. Cool roofs could reduce urban heat impacts by almost half of their projected levels by 2050. Berkeley Lab is developing a heat-resilience toolkit with community input for underserved neighborhoods in Fresno for the Strategic Growth Council, leveraging its expertise in cool surfaces and neighborhood- scale modeling using CityBES.lbl.gov. Read More.
Event Spotlight: COVID-19
In December 2019, the novel viral respiratory illness, coronavirus disease 19 (COVID-19), quickly spread from China across the globe. The World Health Organization declared COVID-19 a pandemic in March 2020, and since then, all six federal laboratories have rapidly deployed their resources and research capacities to respond to the multifaceted public health crisis. These are just a small sample of the ways in which the labs and research centers stepped up to respond to the disaster.
International collaboration:  Scientists at NASA Ames, LLNL and Berkeley Lab are contributing to the COVID-19 International Research Team (COV-IRT), an international community of scientists using public data to rapidly understand the virus and develop a vaccine and therapeutics.
In just 37 days, scientists at NASA JPL developed a ventilator, Ventilator Intervention Technology Accessible Locally (VITAL), that received Emergency Use Authorization from the Food and Drug Administration (FDA). Designed specifically for COVID-19 patients, VITAL requires fewer parts than traditional ventilators, and its design makes it ideal for use in nontraditional settings.
As part of the COVID-19 High Performance Computing (HPC) Consortium, NASA, LLNL, Berkeley Lab, and Sandia/California are contributing to the public-private partnership between industry, academia, federal agencies, and national laboratories, bringing together computation resources and technical expertise to help meet the needs of COVID-19 researchers.
Berkeley Lab's Advanced Light Source (ALS) rapidly shifted operations initially to run a limited number of beamlines to support structural biology research on therapeutics. Similarly, the Stanford Synchrotron Radiation Lightsource (SSRL) at SLAC dedicated a subset of stations to provide its powerful X-rays to examine the biomolecules crucial to understanding how the virus replicates in the body, and produce detailed images that can be used in the design of targeted therapeutic interventions.
LLNL is spearheading several research efforts on diagnostic testing, including adapting their genetic diagnostic system to provide an inexpensive, sensitive method for rapid detection, and updating their diagnostics system to detect co-infection with other viruses and bacteria to better inform clinical care.
Leaning on previous testing methods developed for portable, rapid detection of Zika virus, researchers at Sandia/California developed a novel approach for viral detection focused on low-cost portable instrumentation that could be controlled by smartphone.
SLAC led the development of the Coronavirus Standards Working Group, convening experts across sectors to establish an open source repository for testing methods and data, and producing reference materials, samples, and methods, critical for accurate and reliable testing.
In collaboration with other federal agencies, LLNL is supporting rapid identification of countermeasures using an artificial intelligence computational platform to optimize antibody designs for a vaccine, as well as computationally screening commercially available compounds to identify candidates for the development of antiviral drugs.
Researchers at Berkeley Lab conducted a study of the risk of airborne transmission of viruses within buildings and how to mitigate those risks. Using computer modeling and physical experiments, researchers hope to provide a set of recommendations for building operation that can decrease virus transmission risk.
A NASA Ames project is using satellite thermal infrared sensor brightness temperatures to examine how the entire Bay Area's urban heat flux has changed during the pandemic, and how that change has contributed to a more or less healthy environment for the millions of people living in it. NASA JPL is using satellite-derived synthetic aperture radar data to map changes in activity levels in cities around the world to understand how activity reductions correspond to different cities' levels of success in controlling virus outbreaks and how those reductions correspond to observed changes in environmental conditions.
Real Time Response and Monitoring
NASA JPL's Advanced Rapid Imaging and Analysis (ARIA) project, a partnership with the California Institute of Technology, delivers timely data products for disaster response. ARIA combines near real-time GPS, radar, optical, and seismic observation with state-of-the-art processing to produce damage and flood maps. With satellite data that can see through clouds, ARIA has helped organizations like the UN World Food Programme monitor events, like flooding from the 2020 tropical cyclones in Bangladesh and India. From local California wildfires to the massive explosion in Beirut, ARIA's openly-accessible maps, produced in collaboration with the Earth Observatory of Singapore, have been used to help identify severely damaged areas where assistance may be required. ARIA's ground deformation maps have also been used to identify a complex web of fault ruptures and damage from the 2019 Ridgecrest, CA earthquakes.
Through NASA's Small Business Innovation Research program, California's Swift Engineering, with support from NASA Ames, has developed a high-altitude, long-endurance uncrewed aircraft to carry science instruments and other small payloads. It is designed to stay aloft for 30 days at 65,000 feet, and its recent first flight provided critical data to prove that design requirements were met. Such aircraft can complement satellites with data on regional scales, and NASA is exploring their use for Earth system science and disaster response. These platforms have the potential to provide imagery similar to a geostationary satellite. During or after a natural disaster, they could gather real-time data or provide a communications relay. Read More.
Scientists at SLAC are developing a new type of pocket-sized antenna, that could enable communication in situations where traditional radios do not work, such as rescue missions that require high mobility. The 4-inch-tall device is capable of emitting radio waves with wavelengths as large as tens to hundreds of miles. In contrast to traditional shorter wavelength radio waves, these waves can maintain their strength over longer distances or travel through obstructions such as water or layers of rock. Read More.
Sandia/California's microgrid team is helping communities hit by natural disasters to recover and rebuild with resilience in mind. A microgrid is a decentralized system of electricity generators that can provide power to buildings and infrastructure even if the power grid goes down. They are a powerful tool in responding to natural disasters, particularly in the critical days after a disaster strikes, when access to power is vital to emergency response. In the wake of Hurricane Maria's devastating impacts in Puerto Rico, Sandia's team worked alongside local groups to deploy six microgrid demo sites across the island, generating power to key buildings, such as hospitals. Additionally, the team worked with local communities on capacity building and workforce development, paving the way for the deployment of more microgrids across Puerto Rico, increasing the island's resilience to future events. Read More.
A rapid and non-invasive screening tool could "sniff out" COVID-19 in patients' breath with a spaceflight-proven, re-usable electronic nose (E-Nose) technology from NASA Ames. Originally developed for trace chemical detection in space, its sensors are being tuned to detect COVID-19 through breath analysis. Using an instrument attached to a smartphone – and NASA expertise in advanced machine-learning methods – the results from the E-Nose will combine with body temperature and other non-invasive symptom screening to provide more accurate on-the-spot answers. The screening results can then be transmitted via cellphone or WiFi networks.
A multidisciplinary team of biologists and engineers at LLNL has developed a 3D "brain-on-a-chip" device capable of sustain and record activity from hundreds of thousands of interconnected, human-derived neurons as they communicate with each other. These devices can potentially be used to study how healthy or sick networks of neurons change in response to disease or infection, toxins, or drugs, without using animal models. The team has recently developed computational tools to analyze the data coming from the devices, bringing brain-on-a-chip devices another large step closer to widescale use. Read More.
When faced with a chemical or biological threat, the safety of soldiers and first responders depends on protective equipment. Unfortunately, the existing materials that provide protection from these threats also inhibit breathability. A LLNL-led team of scientists have developed a smart fabric that breathes, blocks all biological threats, and dynamically blocks chemical threats by closing its pores only in the presence of organophosphate threats. The team is improving the new fabric by incorporating stretch and protection from additional chemical threats. Read More.
Drones could help reduce the impacts of natural disasters by assisting emergency responders: they can make interventions faster, more targeted, and better able to adapt to changing circumstances. They can also multitask in unique ways, for instance making logistics deliveries during a wildfire (of water, radio batteries, first aid, etc.) while using onboard sensors to scan the terrain for hotspots and provide near-real-time information to firefighters. NASA Ames' Scalable Traffic Management for Emergency Response Operations (STEReO) project builds on the center's expertise integrating these vehicles into the airspace to develop the tools and systems to make this a reality. Read More.
Rebuilding with Resilience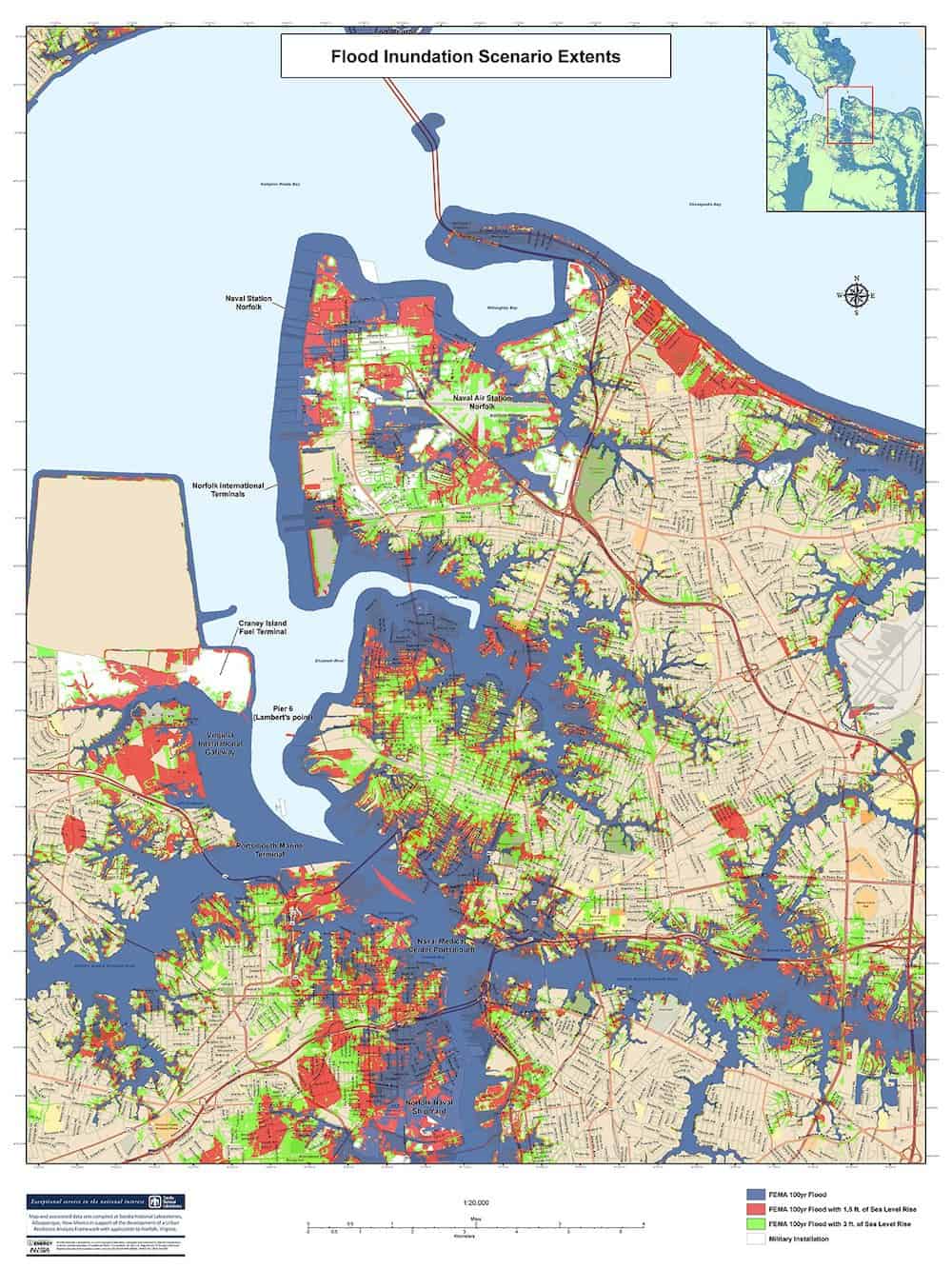 As part of LLNL's Engineering the Carbon Economy Initiative and other energy programming, LLNL scientists have conducted a study to identify solutions to remove carbon from the atmosphere and help California meet its goal of achieving carbon neutrality by 2045. This comprehensive analysis outlines the costs, carbon removal potential, and important co-benefits of a suite of natural carbon removal strategies, biomass conversion technologies, and negative emissions technologies such as direct air capture. This report concludes that carbon neutrality is achievable, and can guide the State as it makes the required investments and policies. Read More.
A core aspect of building a resilient community is understanding their unique needs during a disaster event. Sandia/California's Urban Resilience Planning Process centers the social welfare of communities and has been used in several places such as Norfolk, VA and New Orleans, LA to build more resilient communities. The process is built around two core tenets: engaging community stakeholders at the outset to provide community-specific insights into community needs, and measuring resilience through the consequences to these specific communities. By engaging the community early and gaining a thorough understanding of its needs, Sandia can help design tailored resilient solutions. Read More.
Major earthquakes in California can destroy or damage many thousands of structures and critical infrastructure. To prepare for future large earthquakes, Berkeley Lab is using its advanced supercomputers to run regional-scale, fault-to-structure simulations of earthquakes and associated infrastructure response to assess the earthquake risk to buildings and infrastructure throughout the entire Bay Area. After a major earthquake occurs, safety assessments and repairs can take many months, disrupting critical operations and delaying economic recovery. To dramatically speed up the recovery process, Berkeley Lab has developed, extensively tested, and deployed a new optical sensor that building managers can use to quickly pinpoint likely damage for assessment. Read More.
A personal water- treatment bag developed at NASA Ames can purify contaminated water without power and with minimal interaction. Developed as an emergency technology for astronauts, it has now been used by a group of Antarctic explorers to recycle urine for drinking water. One version containing a powdered supplement can provide all the nutrients and water needed to keep a person alive; another can safely hydrate baby formula with contaminated water. Used in the days following a disaster, the Personal Water Recycling System could save lives until help arrives.
As part of federal efforts to safely handle the legacy of former uranium mines in the west, scientists at SLAC are showing how the radioactive element can continue to cycle through the environment and pose challenges for remediation. While former mines and waste piles were capped decades ago and the remaining uranium was expected to naturally leave the sites as part of groundwater flow, uranium has persisted in nearby groundwater for longer than expected. Researchers have found that the dominant form of uranium in sediments can bind to organic matter and persist in the environment. This work has challenged previous assumptions made in modeling, and will improve the understanding of the dynamics involved in the system in order to enhance groundwater remediation efforts around these former mines.
Francisella tularensis, the bacteria responsible for tularemia, is a potential biothreat agent and is classified as a high-priority priority pathogen by the Centers for Disease Control and Prevention. Current tularemia vaccines use live, attenuated strains of F. tularensis, a strategy associated with high risk profiles, and are not generally available in the US. A team of researchers from LLNL and two other research institutes is developing a vaccine that uses a LLNL-developed nanotechnology to co-deliver F. tularensis antigens, rather than live pathogens, and an additional immunostimulant. This vaccine candidate is expected to be significantly safer than current vaccines without sacrificing efficacy. The LLNL-developed delivery system can used to develop vaccines for additional pathogens. Read More.