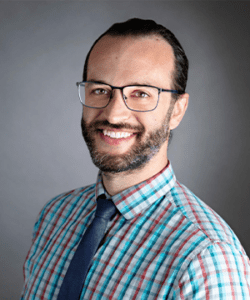 John Thompson
John Thompson is a Senior Science Officer covering Partner Engagement. In this role, John works closely with CCST's 12 academic and research Partner Institutions, connecting the expertise at these institutions to CCST's science services and elevating their cutting edge research within the policymaking community. He also supports the CCST team in the delivery of its Science Services, including expert briefings, workshops, and other convenings.
Prior to working for CCST, John was a consultant with the Senate Office of Research, where he provided research support for the California State Senate on a wide variety of topics, including banking, cannabis, occupational licensing, taxation, and technology. He was previously a CCST Science and Technology Policy Fellow in the office of Assemblymember Jay Obernolte.
John received his PhD in Materials Science and Engineering from Northwestern University, modeling processes that take place during the production of high strength turbine engine blades. He earned a BA in Physics with a minor in Music from New York University.