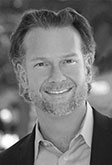 Lewis Chappelear
Lewis Chappelear received a B.S. degree in Biomedical Engineering (1994) from Boston University and an M.S. degree in Mechanical Engineering (1995) from Columbia University. He is National Board certified and is currently pursuing a Ph.D. in Education with a specialization in educational technology. As an engineering and design STEM teacher at James Monroe High School in the Los Angeles Unified School District since 2001, Lewis has worked with his students to build robots, design bridges, and learn about teamwork. His robotics teams have qualified for the World Robotics Championship 8 out of the past 10 years.
The philosophy that he uses in his classroom everyday is that he wants to see his students make mistakes, because that's where learning starts. In 2003, he cofounded the Engineering and Design Academy at James Monroe High School, which involves more than 40 local engineering companies and community organizations that provide internships, guest speakers, and company tours for his students. His work with his students often extends beyond the classroom, helping them to make connections to local businesses and secure internships at places such as JPL and Northrop Grumman.
In 2012, he helped form the South Korean VEX Robotics National team and travels to Seoul each summer to teach a robotics summer camp for middle school students. Lewis Chappelear was named 2008 California Teacher of the Year, 2008 National Teacher of the Year Finalist, 2009 Distinguished Engineering Educator, 2010 "40 Under 40" Los Angeles San Fernando Valley Business Journal Person of the Year, 2010 IEEE Pre-University International Educator of the Year, 2011 VEX Robotics Teacher of the Year, 2012 VEX Robotics Hall of Fame inductee, and 2013 Kent City Schools Hall of Fame inductee. He is a co-chair on the California Department of Education STEM Task Force, an appointed member to the California Teacher Advisory Council and the California Council on Science and Technology, and continues to consult for the California Department of Education, the California Commission on Teacher Credentialing, National Assessment of Educational Progress (NAEP), and the National Board for Professional Teaching Standards (NBPTS).
He served on Cal TAC from 2010-2013.