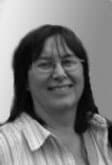 Margaret (Peg) Cagle
Peg Cagle currently teaches eighth grade honors algebra, honors geometry, and French at Lawrence Gifted/Highly Gifted Magnet in the Los Angeles Unified School District. Originally an architect by training, she became an educator after coming to California and learning there was a critical shortage of math teachers. She has been teaching since 1993.
Her credentials include a Bachelor's Degree in Architecture from Carnegie Mellon University in 1979, National Board Certification in Early Adolescence Mathematics in 1999, and a Master's Degree in Mathematics Education from California State University Northridge in 2004. She is National Board Certified in Early Adolescent Mathematics. Cagle's honors include the Los Angeles City Teachers of Mathematics Association Excellence in the Classroom Award (2003); the Raytheon Math Hero Award (2006); LAUSD Teacher of the Year (2008); the USA Today All-USA Teacher Team (2007); and the Presidential Award for Excellence in Math & Science Teaching.
She served on CalTAC from 2009-2011.