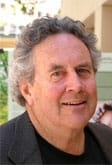 Jeff Dozier
Distinguished Professor in the Bren School of Environmental Science & Management
UC Santa Barbara
Founding Dean of the Bren School
UC Santa Barbara
Jeff Dozier has taught at the University of California since 1974 after earning his PhD from the University of Michigan. His research interests are in the fields of snow hydrology, Earth system science, remote sensing, and information systems. He also helped conceive and implement innovative remote sensing and information management systems that have facilitated developments in the broader Earth science community. He established the Bren School as its first Dean, from 1994-2000, during which time he negotiated the gift from the Donald Bren Foundation and helped design Bren Hall, the first laboratory to receive a Platinum designation from the US Green Building Council.
Dozier works mainly in alpine areas, where the storage and melting of snow dominate the hydrologic cycle and have enormous economic and social significance to populations that depend on snowmelt for their water resources. He has led interdisciplinary studies in three areas: snow hydrology and biogeochemistry in the mountain environment; hydrologic science, environmental engineering, and social science in the water environment; and the integration of environmental science and remote sensing with computer science and technology.
From 1990-1992, he was the senior project scientist for NASA's Earth Observing System when the configuration for the system was established. In 1992 he, Gordon MacDonald, and D. James Baker started the MEDEA project, which examines the utility of data from classified satellite systems for environmental monitoring, and which also advises the intelligence community on the role of environmental science in national security.
Dozier is a Fellow of the American Geophysical Union and the American Association for the Advancement of Science, an Honorary Professor of the Academia Sinica, and a recipient of the NASA/Department of Interior William T. Pecora Award and of the NASA Public Service Medal. Recent honors include the 2009 Jim Gray Award from Microsoft for his achievements in data-intensive science, his selection as the 2010 Nye Lecturer for the American Geophysical Union, and helping Disney Animation Studios win the 2014 Academy Award for Best Animated Feature Film, Frozen. A long-time backcountry skier, mountaineer, and rock climber, he helped lead six expeditions to the Hindu Kush range in Afghanistan and has a dozen first ascents there. He joined the CCST Council in 2015.